PCW Disc conversions from LocoScript 3" and 3.5" discs to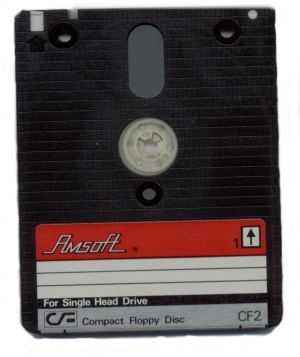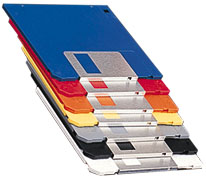 Word for Windows 95/97/2000
or Lotus WordPro 3.5" discs PC format
for only £5.00 per disc!
The humble Amstrad PCW has been around since 1984 and over 200,000 were sold in the UK alone. Though superseded by PC's for many applications, the good old PCW is still favoured by many people for its easy to use LocoScript word processor and friendly keyboard layout
Yes, it IS possible to convert all your old LocoScript files (on 3" or 3.5" disc) so that they can be read on a PC by programs like WordStar, Microsoft Word or Lotus WordPro !
Whilst some experts suggest using an ASCII conversion system to convert your files from PCW to PC format. ASCII conversions not only means that you firstly have to go through and save each and every file in ASCII format, it means that you loose all your formatting, including the bold characters and italics, as well as any special characters like foreign accents.
Others might suggest that you invest in expensive special cables and software to link your PCW to your PC. Paying over £50 for special PC software and then trying to get to grips with all the complex and time consuming procedures is just not worthwhile for the odd couple of discs ... and totally inappropriate for those who only own a PCW and just want to get their work published. Moreover, both these options pre-suppose that your PCW is still running. Often the reason for replacing the old faithful PCW is that it finally ceased working!
My competitively priced and fully confidential disc transfer service aims to keep all your formatting, and the resulting PC files can be tailored to suit most Windows-based word processors.
My previous Clients include students who want their Thesis recovered, Genealogists who want to recover notes on Family history compiled some time ago, Military Museums who had updated their computer system and needed to recover old correspondence files and notes etc,  Authors, who need existing stories converted so that they can be read on kindle or other devices and a UK Police force, who needed data from disc as evidence.
My process requies a PCW disc to be in my PC, but does not require me to view any data on the files, I just ensure that the title of the file is useable and similar to the original version. So I can ensure confidentiality
Disc Formats
My conversion system will accept :
single (CF2) or double density (CF2DD) 3" discs from the PCW 8256/8512/9512
3.5" discs from all types of PCW, including High Density discs accidentally used on 9512+'s!
Files should be in Locoscript 1, 2 or 3 format - the version you are running appears in the centre of the initial LocoScript screen display when it's starting up. If you have never upgraded from the discs originally supplied by Amstrad with the PCW, that's fine (the version will probably be 1.20 on the 8256/8512, 2.11/2.16 or 2.29 on the 9512, 2.31 on the 9512+, and 1.50 on the 9256 and PCW10).
Discs in LocoScript 4 format cannot be accepted however you may be able to save all the files in Loco 3 format by LocoScript 4.
The most popular conversion format is plain text as this can not only be read by Word 6 under Windows 3.1 and all later versions and futureversions of Word (95/97/2000) running under Windows 95/98/NT/ME/2000 but also Wordpad (amongst the "Accessories" in Windows 95/98/2000) and by Apple Macs used by a number publishers etc.
However, I can also convert files to and from WordStar.
Costs and Turnround
The normal price is £5 per complete disc (that's for BOTH sides in the case of a CF2 single density 8256/8512 disc) . The conversion service is totally confidential and I aim to undertake the work within 5 working days of receipt.
The procedure for sending discs
If you have access to a working PCW, please make a copy of each of the discs you wish to be converted then verify the results (using either DISCKIT or LocoScipt 2/3) and send me the copies; you keep the originals.
If you do not have a working PCW or do not know how to copy or verify discs, or cannot copy them, I can happy to work off your discs, ie the

'MASTER COPY'

.

Please clearly number (or name) the discs

Pack up the discs securely, preferably in an anti-static bag or cardboard container like a 9512 ribbon box and preferably NOT in their plastic cases (as they invariably get broken in the post) then pop them in a "Jiffy" padded bag. Please include a Stamped Self Addressed Envelope (this will be used to return the PC disc(s) to you along with a CD with converted files), and a slip giving your telephone number, e-mail address (if you have one), and the format you want them converted to - if you don't say you'll get plain text !

Please remember to send any money / cheque (made payable to

David J Barnes

) with your discs.

Post the package through the normal postal service, (there is no need to pay out extra for registered or recorded delivery) addressed to:
David J Barnes c/o 46 Prestwich Street, Burnley, Lancashire, England BB11 4NZ
If I encounter any reading problems with the discs I will contact you by telephone or e-mail to discuss options

Should I not be able to convert the discs, i.e. if they are corrupted or damaged etc the discs will be returned and no charge made.

The files are converted (with the file names unchanged) to your chosen format on a Compact Disc(s) - each CD disc will contain numbered or named files (In Alphabetical or Numerical order) corresponding to the original PCW disc numbers or names.

Your original PCW CF2 discs are mailed back to you along with your newly converted files on CD disc(s).
Also disc conversions from WordStar 3.5" discs to Wordstar for Windows,
Word for Windows 95/97/2000
and Lotus WordPro PC formats
for only £5 per disc!
If you have upgraded your personal computer, PC 3.5" disc conversions are also available;
Choose from either WordStar,Word for Windows 95/97/2000 or Lotus WordPro PC formats
to any of the following formats;
Wordstar for Windows,Word for Windows 95/97/2000 and Lotus WordPro
.... for only £5.00 per disc!
I have a very small quantity of unused 3.5" discs at £1.00 each
Re-formatted CF2 3" discs are also available, at £1.00 each
For Non-UK residents, I will accept currency notes to the equivalent value in US Dollars, Australian Dollars or Euros. No foreign cheques please as I have to pay bank charges for banks to negotiate settlement and I can exchange currency notes without charge
If you wish to place an order for any of the above items or have any enquiries, please e-mail me